The Coalition of NABCO Trainees has demanded that the government apologise for what it has called false representation.
According to the Coalition, some people were paraded as NABCO trainees as part of the 66th Independence Day parade in Ho on March 6, even though their members did not attend.
The Coalition stated in a statement that no eligible and rational NABCO trainee in this devastated working environment would want to be paraded to march under the scorching sun to celebrate Ghana's independence.
It said members are going through inhumane treatment, adding that although some may see the celebration as important, it is needless o NABCO trainees in this time of severe hardship and cruel economy.
Read the full statement below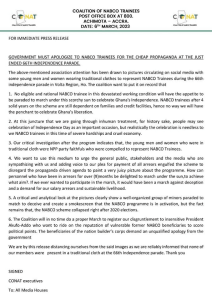 Source: rainbowradioonline.com