The National Service Scheme (NSS) has with immediate effect suspended its Ashanti Regional Director, Mr. Alex Opoku-Mensah.
The suspension comes after Mr Opoku-Mensah stormed the Manhyia Hospital in the Ashanti Region and abused a nurse who allegedly mistreated his daughter, a Junior Doctor at the facility.
"The Management's decision is to allow further investigation into the alleged verbal assault on a nurse on duty at the Manhyia Government Hospital in Kumasi," the statement explained.
"Meanwhile, a committee comprising representatives from the National Service Scheme, the Public Services Commission, and the Ministry of Education, has been set up to investigate the matter and to submit its report to the NSS Management within one month."
The decision was made on Wednesday, November 30 at an emergency meeting the Management of the Scheme held with Mr Opoku-Mensah.
Mr Opoku-Mensah is expected to appear before the Committee on Monday, December 5, 2022.
Sack Ashanti Region NSS boss
The Ghana Registered Nurses and Midwives' Association (GRNMA) has called on the government and the Public Services Commission to sack the Ashanti Regional Director of the National Service Scheme (NSS), Alex Poku Mensah.
The call follows an audio recording circulating on social media on which the Regional Director is heard hurling insults at a nurse at the Manhyia District Hospital in the Ashanti Region.
In a press release on November 29, 2022, the President of GRNMA, Perpetual Ofori-Ampofo, called on the government to sack the Regional Director, popularly known as Omens. She mentioned that the Director is not fit for the position, thus should be sacked with immediate effect.
"Having considered the content of the audio and the report received from our Ashanti Regional branch, the leadership of GRNMA wishes for the Public Services Commission and government to sack the Regional Director immediately because he is not fit for the Director position in the public service."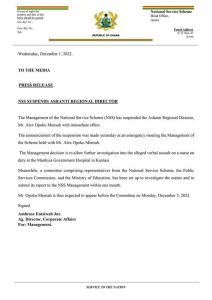 Source: peacefmonline.com