The Minister for Food and Agriculture, Bryan Acheampong, has been captured in a viral video supposedly threatening the spokesperson of the Food Suppliers Association, Koku Amedume.
In the said video, which was shared by Accra-based 3FM, the minister was arguing with Koku Amedume about the presence of the suppliers, who were picketing at the premises of the National Food Buffer Stock Company.
He accused the spokesman of mobilising the suppliers, whom the government owes several months of arrears, to the premises of the company for ulterior motives even though he is not part of them.
But Koku Amedume said he was appointed by the executives of the suppliers to be their spokesperson, which led to Bryan Acheampong asking him when he was appointed.
He told the minister that he was appointed four months ago by the executives of the suppliers to represent their interests.
The minister proceeded to ask him about his qualification. "You are a lawyer," the minister asked. Amedume responded, "I'm not a lawyer".
Then the minister asked, "You're a law student," and Amedume responded "Yes".
As he pointed his index figure at the spokesperson, Acheampong repeated, "You're a law student" and he responded "Yes".
Then the minister hit the shoulder of the Amedume and left.
Amedume said that he felt the threat of the food and agriculture minister, in an interview with 3FM on Monday.
He, however, indicated that he is not surprised by the action of Acheampong because he is aware that the "system would always fight back if one is fighting it".
Background:
The Food Suppliers have been picketing the National Food Buffer Stock Company since Tuesday, July 4, 2023, to demand the payment of debts owed them since 2021.
Meanwhile, the National Food Buffer Stock Company has noted that it is holding an emergency board meeting to discuss matters concerning its indebtedness to suppliers.
NAFCO, in a statement on July 6, said it "acknowledges its indebtedness to its cherished suppliers. The company sympathizes with them in this unfortunate situation they find themselves in which has compelled them to picket at our head office premises. The company is equally concerned about their plight and appreciates their patience.
"An emergency board meeting has been scheduled on the situation and the outcome including a possible roadmap for resolution will be shared thereafter," parts of the statement read.
Watch the altercation in the video below: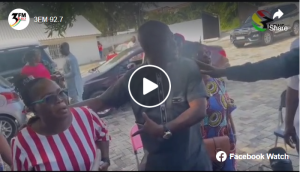 Source: ghanaweb.com