The lawmaker for the North Tongu constituency in the Volta Region, Samuel Okudzeto Ablakwa, has urged President Nana Addo Dankwa Akufo-Addo to be sensitive to the sufferings of his electorates.
This was in reaction to the president's address to the nation on Sunday, May 28, 2023, where he lifted all COVID-19 restrictions and proclaimed an end to the disease as a health emergency.
But the lawmaker has expressed worry that throughout the 37-minutes-long address of Akufo-Addo, there was no hint of scrapping the burdening COVID-19 levy and the E-levy, due to the IMF bailout.
In a Facebook post, the MP stated that "Ghanaians expected President Akufo-Addo to have announced the scrapping of the unjustifiable COVID-19 levy as he lifts all covid restrictions.
"Ghanaians also expected the awful E-Levy to be abolished since his government has opted for an IMF bailout."
Ablakwa also pleaded with President Akufo-Addo to be sincere and sensitive to the sufferings of Ghanaians in these hard times.
"President Akufo-Addo must be sincere and sensitive to the plight of suffering Ghanaians," he stated.
The MP for North Tongu also emphasized the need for lawmakers to unite to remove the COVID-19 and E-levies to address the plights of Ghanaians.
"I hope all parliamentarians will come together in the national interest, and take advantage of the mid-year budget review to expunge those two obsolete taxes.
"As President Akufo-Addo continues to let Ghanaians down, Parliament cannot afford to fail. May we be the people's saving grace," he added.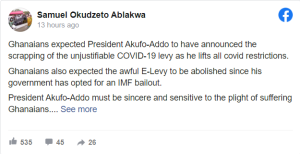 Source: ghanaweb.com