A concerned citizen from La in Accra, Ganyobi Nii Kotopon Mansaalor I, known in real life as Jeffrey Tetteh, has expressed anger over the fact that the La General Hospital has been closed down over the government's plan to reconstruct the facility.

This action, he said, has led to the deaths of many because they have not been able to get proper medical attention.

For this reason, Jeffry Tetteh, also the spokesperson for the La youth, has set out to embark on a solo walk from the La Market Complex to the Ministry of Health in the Central Business District of the capital.

In a post he made on March 1, 2023, he said the government of the day deceived Ghanaians when they said they would complete the project in two years.

"Today, March 1, 2023, marks exactly three (3) years since the La General Hospital was closed down for demolition in preparation for reconstruction at an estimated cost of €68m.

"The new building, as the whole world was deceptively told, was to be completed in two (2) years after an unnecessary lavish partisan sod cutting on Monday, August 10, 2020.

"Three (3) years after the demolition, one single concrete block is yet to be planted on the site. Rather, in contrast to the many failed commencement dates promised by the Minister in charge of health, absolutely nothing shows an iota of hope that the hospital would be built," he wrote.

This solo march, Ganyobi Nii Kotopon Mansaalor I added, is only one of a series of actions he intends to undertake to mount pressure on the government to address the situation.

"Over the last 3 yrs, many precious lives have been lost because some people FAILED to do their work and have therefore failed the people of La, GaDangme and Ghana as a whole.

"I shall therefore embark on a series of actions to force Government to first openly apologise to the people of La, GaDangme and Ghana for this barbaric act and also start work on The new La General Hospital Project ASAP," he added.

The one-man march by Jeffrey Tetteh is expected to take place on March 28, 2023.

President Nana Addo Dankwa Akufo-Addo cut the sod for the 160-bed redevelopment of the La General Hospital in Accra on Tuesday, August 11, 2020.

The ultra-modern facility is being funded with a 68 million euro credit facility sourced from the Standard Charted Bank of the United Kingdom.

The hospital, upon completion, is expected to complement the Greater Accra Regional Hospital at Ridge and serve most people from Osu through La and Teshie, as well as residents living along the coastal corridor of Accra.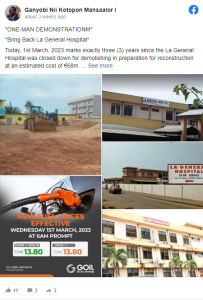 Source: ghanaweb.com