The Member of Parliament for Ajumako Enyan Esiam, Dr. Cassiel Ato Forson, has expressed appreciation to the leadership of the National Democratic Congress (NDC) for his appointment as the leader of the party's caucus in parliament.
In a statement issued via his social media pages, the newly-appointed Minority Leader also expressed gratitude to his colleagues as well as members of the party for their support following his appointment.
"My dear friends, I am honoured and humbled to have been chosen to lead our illustrious and gallant caucus in Parliament.
"I thank the leadership of our party who have placed their trust and confidence in me.
"I am also deeply grateful to colleagues, the rank and file of our party and the Ghanaian people for their profound support and solidarity," he wrote.
The new Minority Leader disclosed that he has already had a discussion with his predecessor, Haruna Iddrisu, following his appointment.
While asking for the support of the party, Ato Forson assured that his leadership will be directed towards representing the collective goals of the NDC and the caucus.
"I have held fruitful and positive conversations with my senior brother Hon. Haruna Iddrisu. I commend him for his admirable stewardship when he was granted the opportunity by our party's leadership.
"As leader, it will be my duty to represent our collective goals with unwavering dedication and high integrity. I have no doubt that with your support we shall succeed.
"May God bless our efforts," the new Minority Leader added.
A former Deputy Minister of Finance, Dr. Cassiel Ato Forson has been appointed as the new Minority Leader, as a replacement for Haruna Iddrisu.
Emmanuel Armah-Kofi Buah has also been named as the new Deputy Minority Chief Whip.
Kwame Agbodza takes over as Chief Whip.
Ahmed Ibrahim, MP for Banda, has been retained as the First Deputy Minority Chief Whip, just as Comfort Doyoe Cudjoe-Ghansah, MP for Ada, is still the Second Deputy Minority Chief Whip.
This was contained in a letter to the Speaker of Parliament, Alban Bagbin, from the National Democratic Congress and dated January 23, 2023.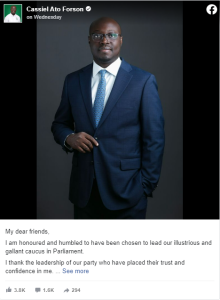 Source: ghanaweb.com