A lead convener of #FixTheCountry Movement, Oliver Barker-Vormawor, has taken a swipe at the current chief justice and her predecessor over the handling of a petition to get justice for the people of Santrokofi, Akpafu, Lipke and Lolobi (SALL) Traditional Areas, who have been without representation in parliament since 2020.
According to Barker-Vormawor, the former Chief Justice, Kwasi Anin-Yeboah, deliberately impeded a petition the movement sent to him to correct the injustice done to the people of SALL.
The convener, who made these remarks while explaining why the group has decided to withdraw its petition in a GHOne interview, nominated by GhanaWeb, on July 15, 2023, added that the current Chief Justice, Gertrude Torkornoo, is also not taking the injustice SALL has suffered seriously.
"We feel that over two years since the petition was brought for action and all actions and the things that have been done indicate to us that every attempt by the institutions that ought to know better and to be vigilant in protecting the constitution fails in that regard.
"And for this reason, we have had to have a serious conversation with ourselves that whether or not our participation in the process enhances the rule of law or allows for the charade to continue. We don't want to participants in a charade that is determined to undermine the Constitution," he said.
The lawyer went on to explain the difficulties his movement has had with both the current chief justice and her predecessor on the petition they filed.
He said that after the petition they sent to the Office of the President was sent to Justice Anin-Yeboah he wrote to them and told them the petition was missing critical pages.
"We wrote back to the Office o the President raising objection to this and the suggestion of the Office of the President was that they added over the petition to Mr Anin-Yeboah intact, that there were no pages missing.
"So, we resubmitted that petition… after that happened constitutionally the chief justice was to determine whether there is prima facie case on the bases of the petition or not," he said.
He added that the former chief justice failed to determine whether the petition had merit and gave all kinds of excuses.
Barker-Vormawor said that the current chief justice has also failed to recognise the urgency of the injustice done to the people of SALL by her decision to adjourn the issue surrounding the petition till further notice.
Watch the interview below: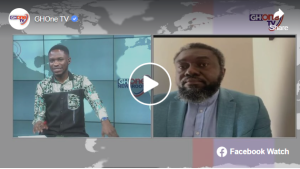 Source: ghanaweb.com