The General Secretary of the opposition National Democratic Congress (NDC), Fifi Fiavi Kwetey, has returned to his home constituency to express gratitude to the chiefs and people there.
The NDC party executive was the immediate past Member of Parliament for the Ketu South constituency until 2020 when he stepped down, making way for the current legislator, Abla Dzifa Gomashie.
In photos and videos shared online, Fifi Kwetey shared his excitement at returning home, adding that he felt really at home.
"Over the weekend, I was in Ketu South. It was such a wonderful experience to return to the constituency where I grew up and once served as an MP. I sincerely appreciate the warm reception I received from the religious leaders, traditional authorities, party executives and the good people of the area," he wrote on Facebook.
The visit by the NDC General Secretary was done in the company of the sitting MP, Dzifa Gomashie; the Volta Regional Chairman, Mawutor Agbavitor; and other executives of the party.
The team met with constituency executives and engaged in a number of activities geared towards rekindling the spirit of patriotism in their members.
The team also visited some churches in the community.
"I thanked the leadership of both churches for their support to the NDC and Ghana and appealed to them not to relent in their efforts to make the nation better, great and strong," he added.
Fifi Fiavi Kwetey and the team also paid homage to Togbui Fiti Adzonugagag Amenya V, the Paramount Chief of the Aflao Traditional Council; as well as Togbui Addo of the Klikor Traditional Area, and Tigbui Adamah of Some Traditional Area.
"My tour ended with a visit to my hometown, Nogokpo, where I paid homage to the chief, Togbui Sabah," he added.
Fifi Kwetey was elected as General Secretary of the National Democratic Congress (NDC) at their recent National Delegates Congress, where he beat competition from the likes of Elvis Afriyie Ankrah and Dr Peter Boamah Otokunor.
The congress also saw the election of Johnson Asiedu Nketiah as the National Chairman of the party, beating the incumbent, Samuel Ofosu-Ampofo.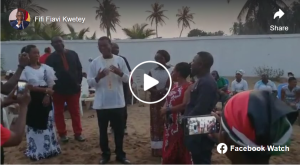 Source: ghanaweb.com