The New Patriotic Party (NPP) Chairman for the Akim Oda Constituency, Ampaabeng Assimeng, has reportedly admitted that the party made arrangements for money which was to be given to voters on the day of the Assin North by-elections.
In an audio recording played on Accra-based Onua FM, on July 6, 2023, Ampaabeng Assimeng, is heard saying that the polling station (PS) he was supervising received GH¢600,000 which was to be given to voters.
He said that the money, however, was not given to supporters of the NPP which led to them voting against the party's candidate in the Assin North by-election.
"What happened was that the money went into the wrong hands. We don't know who the monies were given and the amount that was left.
"At the four polling stations, we were supervising, our leadership made us understand that that money that was allocated to them was GH¢600,000, that is 600 billion old cedis but look at the votes we got," he said in the Twi dialect.
The NPP constituency chairman cautioned that if the party fails to put the necessary steps in place it might suffer the same fate in the 2024 general elections.
"The polling stations were are talking about are NPP strongholds. In previous elections with a voter population of 2000, the NPP gets 1600 votes, the NDC around 400. But see what happened during the by-election, we were winning by only 8 or 10.
"Things are not going well and if this should be how we are going to break the 8, God should have mercy on us," he said.
About the Assin North election:
According to the Electoral Commission's announcement, James Gyakye Quayson garnered a total of 17,245 votes, representing 57.56% of the total votes cast.
His closest contender, Charles Opoku of the ruling New Patriotic Party (NPP), received 12,630 votes, accounting for 42.15% of the votes.
Bernice Enyonam Sefenu of the Liberal Party Ghana (LPG) secured 87 votes, which represented 0.29% of the overall tally.
The by-election in Assin North was held to fill the parliamentary seat left vacant following a legal battle that questioned Quayson's eligibility to hold office due to dual citizenship concerns.
Watch a video of the Onua FM interview below: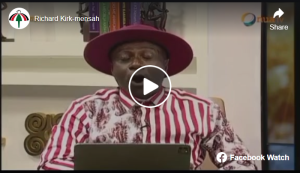 Source: ghanaweb.com