Former Deputy Minister for Energy, John Abdulai Jinapor has described the government's gold for oil policy as nothing less than a farce.

In a Facebook post sighted by GhanaWeb, Mr Jinapor who is a member of parliament Yapei Kusawgu said the policy, just like the government's Sinohydro deal will eventually end up on the nation's accounting debt.

"The so-called Gold for Oil deal being championed by the Vice-President, in an opaque and loudly manner, is nothing but a charade that will end up piling unsustainable debt just like the so-called Sinohydro deal. It will be recalled that after insisting that the Sinohydro agreement was a barter deal, the current government has just witnessed an embarrassing spectacle following the insistence by the IMF that the deal is nothing but a loan agreement and must reflect in the national debt accounting," he wrote.

In a quest to manage the rising cost of fuel brought about by the country's current economic challenges, the government is pursuing a Gold for Oil Policy where the state will acquire petroleum products from the international market in exchange for gold.

Among other benefits, Vice President Dr Mahamudu Bawumia who is spearheading the policy said the policy will help ease pressure on the nation's US dollar foreign exchange reserve.

But speaking about the policy in his Facebook post, Mr Jinapor said the Precious Mineral Marketing Company which is expected to play a role in the policy implementation lacks the expertise to do so.

"Clearly, the PMMC, which is the assayer of Gold in Ghana, has proven to lack the financial capacity and experience in gold trading. This knee-jerk policy is nothing but an attempt to fleece the Artisanal and Small Scale Miners," he stated.

The opposition MP added that the policy will also lead to the smuggling of gold out of the country hence the need for the policy to be reviewed.

"Already the Bank of Ghana has artificially pegged the Ghana cedi to the US dollar at around ¢9 to $1 in sharp contrast to what the commercial banks are quoting, thus ¢12 to the US dollar. This ploy is nothing but an attempt to undervalue the price of Gold as payments will be made in cedis.

"This fire-fighting approach will only result in the smuggling of Gold across Ghana's borders. From all the analysis, it is obvious this policy is not well thought through and must be reviewed. The government must rather consult further and build consensus before proceeding with the policy," the MP added.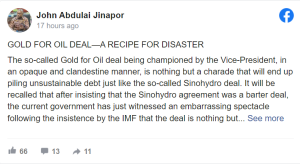 Source: ghanaweb.com