Former Member of Parliament for the Kumbumgu Constituency, Ras Mubarak has asked Ghanaians to blame President Nana Addo Dankwa Akufo-Addo and the National Security Ministry in cse any harm befalls Member of Parliament for North Tongu, Samuel Okudzeto Ablakwa.

According to the former MP, he has picked up intelligence that some persons have been tracking his party member and has since informed Mr Ablakwa to take his security seriously.

"I spoke to him about it and told him to take a safety precaution . . . ," he told Neat FM in an interview.

"The first duty of every President is the protection of his citizens . . . that is why I said that if a sitting Member of Parliament is harmed, the President and National Security must be held responsible," he added.

Mr Ablakwa of the opposition National Democratic has been critical of the government by releasing several exposés highlighting infractions within the government.

His exposés have recently been focused on the National Cathedral construction which has divided public opinion on its prioritisation and budgeting.

But according to Ras Muburak, some people have been following the North Tongu MP around and that raises questions about the safety and security of Mr Ablakwa.

"People are tailing him. They're tracking his [Ablakwa's] movement and we don't have to wait till something happens. We've had instances in this country where a Journalist was harmed and killed," he told NEAT FM's morning show, 'Ghana Montie', in an interview.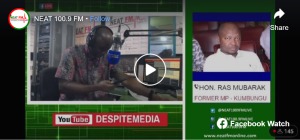 Source: ghanaweb.com