Former President John Dramani Mahama has said he is as a royal of Gonja from Bole and so it is his responsibility to participate fully in the preparation towards the 7th Day funeral 'Aduah' (prayer) of the late King and Overlord of Gonja Yagbonwura Tuntumba Boresa (I), hence he donated a bull, drinking water, 20 bags of rice, 2 bags of maize, 2 bags of cassava, 2 bags of maize, gallons of cooking oil, packs of voltic mineral water and a cash amount of Ten thousand Ghana cedis (GHc 10,000 ) to support the funeral rites of late Gonja King.

The former President made the donation on Friday, 10th February, 2023 when he attended the 3rd day Funeral rites "Adua" of the late King at Jakpa Palace in Damongo in the Savannah region on Friday 10th February, 2023.

The items were presented to the Regent of the late Yagbonwura, the 3 widows, the Chairman of the funeral organizing commercial (Mankpanwura) and the caretaker Head of State of Gonja, Sonyawura Adamu Kanyiti.

On arrival, former President Mahama first paid compliment to the regent of the late King and proceeded to exchange pleasantries with the caretaker Head of Gonja Sonyowura Adamu Kanyiti and the sub-chiefs present.

At the durbar ground, an enthusiastic crowd comprising party members, nursing students and members of the public, threw all funeral protocol to the wind and mobbed the former President the moment he stepped out of his vehicle to take his seat for the commencement of the Aduah ceremony.

Former minority leader Haruna Iddrisu, younger brother of the former President, Ibrahim Mahama were in attendance as well as MP's National Regional and Constituency executives of the National Democratic Congress (NDC) and others.

Savannah Regional Minister Saeed Muhazu Jibril on his part used the opportunity to disclose to the entire Gonja Kingdom that the judiciary committee will on the 16th February 2023 pronounce who occupies the Damongo skins as the Damongowura and cautioned whoever who will destabilize the peace of Damongo after the pronouncement to be aware of the change in his/her sleeping place afterwards.

Meanwhile, 26th February 2023 has been scheduled for the 7th day adua which will have in attendance President Nana Addo and the rest of other dignitaries in the country.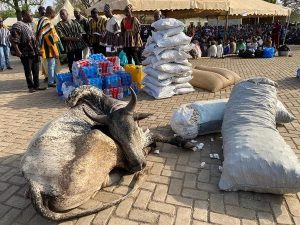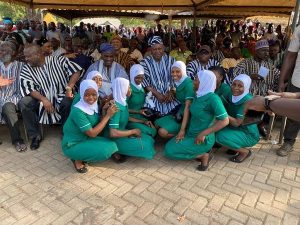 Source: nkilgifmonline.com