The National Communications Officer of the National Democratic Congress (NDC), Sammy Gyamfi, has lambasted the Minister of Information, Kojo Oppong Nkrumah, for allegedly orchestrating the payment of GH¢151,000.00 in the form of a "COVID-19 risk allowance" to senior management and support staff at the Ministry of Information without approval.

According to Sammy Gyamfi, Ghanaians need to be concerned about the misappropriation of funds, as well as, the rate at which corruption is on the increase under the Akufo-Addo-led government.

He argued that the COVID-19 expenditure which was intended to curb the pandemic and provide relief to Ghanaians was squandered by some government appointees.

In a recent report released by the Auditor-General, it highlighted some infractions in the government's expenditure for COVID-19 from March 2020 to June 2022.

The report captured some senior management and supporting staff of the Ministry of Information paying themselves a total amount of GHS151,000.00 as a "COVID-19 risk allowance" without approval.

Responding to the report in an interview with Neat FM and monitored by GhanaWeb, Sammy Gyamfi questioned the Information Minister's eligibility for benefiting from the COVID-19 risk allowance.

He said, "Our friend Kojo Oppong Nkrumah who has never attended a nursing school, who is not a doctor, and when COVID came he never took care of any patient. Neither does he partake in the COVID-19 vaccination injection exercise, his is just to communicate for the government."

"But when the government said that they should pay COVID-19 risk allowance to the frontline health workers who were taking care of the COVID patience.

"Kojo Oppong Nkrumah that has never injected before paid himself and his staff over 8.1 billion old cedis. Is Kojo Oppong Nkrumah a frontline worker?" he questioned.

Sammy Gyamfi added that President Akufo-Addo should sack Kojo Oppong Nkrumah and two of his ministers, Ken Ofori-Atta, Finance Minister and Kwaku Agyamang Manu, Health Minister for their involvement in the misappropriation of state funds to redeem his image as a leader who does not condone corruption.

He then cited an example from the Malawian government where 19 state officials were dismissed for mishandling their COVID-19 funds.

"Nana do something before you die, if you didn't spend some of the money, then take action. Those who went against the laws of the country and misappropriated the Covid-19 funds. The Auditor General has submitted the report to you so we want to see you sacking the health minister, we want to see you sacking the finance minister, we want to see you sacking the information minister. That is all we're asking for," he added.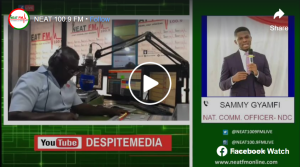 Source: ghanaweb.com