Former president John Dramani Mahama has questioned the logic behind calls for him to refund his ex-gratia following his promise to cancel the existing emolument structure for Article 71 Office Holders when he comes back to power.

According to Mr Mahama, he rather finds it mindless for his critics including some people with legal backgrounds to demand such a retrospective action which runs contrary to the constitution.

"You must show by example. If the economy is in crisis why should we take ex-gratia when the rest of the public and civil service don't take it?

"So, I said categorically that we will cancel ex-gratia. And then somebody who should know better, a lawyer, he said then I should refund all the ex-gratia we took before to show that we are serious about cancelling it.

"He does not even know the principle in our constitution that says you cannot pass retroactive legislation. If you pass legislation today, it does not affect what happened in the past. And what he says is a bit silly because it's like saying that because we've introduced free SHS all of us should go and get a refund of our school fees that we paid in the past.

"That is how silly what he is saying is. And so they should state what their position is, are they in favour of ex-gratia? Or they agree with us that we should cancel it?

"We are saying 2025 when we come, we will cancel ex-gratia," the former president stressed when he interacted with some members of the National Democratic Congress in the Ketu South District of the Volta Region as part of his campaign for the party's upcoming flagbearership.

Promise to end ex-gratia and run a lean government

Former President John Dramani Mahama has promised to scrap the retirement benefit given to the Executive under Article 71 officeholders, known as ex-gratia, when he becomes president again.

According to him, his government will start the constitutional processes to scrap ex-gratia in the first year of his administration.

The former president, who made these remarks at the launch of his campaign to become the flagbearer of the NDC on Thursday, added that his government would also work to scrap ex-gratia benefits given to appointees under the other arms of government.

"The payment of ex-gratia to members of the executive under Article 71 will be scrapped. And the necessary constitutional steps to abolish that payment will start in earnest in 2025.

"We will also begin the process of persuading the other arms of government other than the executive to accept the removal of this ex-gratia payment," he said.

Mahama also said that his administration would focus on reducing the president's powers and ensuring the separation of powers among the three arms of government: the executive, the legislature, and the judiciary.

He also said that he would run the leanest government Ghana has ever had in the 4th Republic, with ministers and deputy ministers not numbering more than 60.

Reactions to Mr Mahama's promise

While Mr Mahama's promise to cancel ex-gratia has largely been received by members of the public, his biggest critics including members of the ruling New Patriotic Party have questioned his integrity and motive for making such promise.

Some of his critics have thus dared the former president to return all emoluments he has received over the years as proof his commitment to his promise to scrap ex-gratia.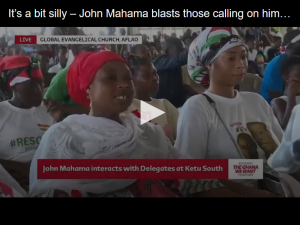 Source: ghanaweb.com