The National Youth Organizer for the National Democratic Congress (NDC), George Opare Addo popularly known as Pablo, has stated that only former president John Dramani Mahama can transform Ghana's economy, hence Ghanaians should offer thanksgiving to God for providing the country with an opportunity for economic optimism.

He argued further that the former president is the only person who can offer solutions to Ghana's current problems.

Speaking in an interview with Original FM, Pablo stated that the current NPP administration is relying on the former statesman's policy positions and interventions that were put in place during his term in office to survive.

He added that, in critical times of economic crises, there is a need for a competent and skilled person to be able to assist in cleaning up the economic mess and rebuilding.

"2017 was Ghana's best-performing year (economically). In 2015, president Mahama at the state of the nation address said that in 2017, the economy will turn around. So, he was a prophet, he foresaw the future and predicted it right.

"Because of the sound policies that he implemented in 2015 and 2016. The only government that 2016 in an election year implemented zero finance from the central bank. That was the level of discipline that he brought on board when we were challenged.

"And that is the kind of discipline that we need currently to turn the economy around. And that's why I say that we have to thank God for President Mahama as the only option for an economic turnaround. Because he has that discipline and that tenacity to be able to build," he said.

Government is seeking a programme with the International Monetary Fund (IMF) with the view to salvage the economy which suffered a torrid in 2022 characterised by a depreciating currency, galloping inflation and a general increase in the cost of living.

Meanwhile, President Nana Addo Dankwa Akufo-Addo is optimistic that Ghana will conclude talks with the International Monetary Fund (IMF) on a possible financial bailout programme.

According to President Akufo-Addo, though the government's debt exchange programme was fraught with several challenges after its announcement, it has largely been accepted by the citizenry.

He made this known when the German Federal Minister of Finance, Christian Lindner, paid him a visit at the Jubilee House.

"We have already taken one important step forward in concluding a staff-level agreement with the IMF. One of the steps was the domestic debt exchange programme which encountered a lot of difficulties, but it has now been virtually concluded…We are now looking towards going the full hog and concluding the agreement. We're hoping that will be done by the middle of March," President Akufo-Addo said.

He also called on Germany to encourage China, an ad hoc member of the Paris Club to support Ghana's debt restructuring efforts.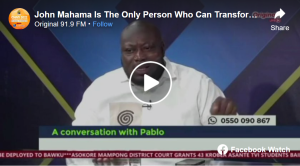 Source: ghanaweb.com