Following calls for some exemptions from government's Domestic Debt Exchange Programme (DDEP), Finance Minister, Ken Ofori-Atta has been summoned.
The Speaker of Parliament, Alban Bagbin, on Tuesday, February 7 endorsed a call from both sides of parliament for the minister to brief the House on the policy statement and issues emerging since its introduction.
According to him, this should be treated as an urgent matter by Mr. Ofori-Atta, particularly in the wake of protests by pensioners at the Ministry of Finance.
"Honourable Members, my understanding is that both sides agree that the Minister be scheduled to come and brief the House on the policy statement and some details about the debt arrangement …Parliament has spoken that is the end of the case," the Speaker said.
"Parliament is ever prepared to assist the government to get out of this quagmire. So, what I can say now is that parliament has spoken and that is the end of it. The Minister must be scheduled by the business committee as early as possible because this is an urgent matter because the pensioners are picketing at the Ministry.
"We need to do this as quickly as possible. Business Committee should schedule the Minister to appear before the house for a brief on the state of affairs," he added.
He proposed 14th February, 2023 for the appearance of the Minister.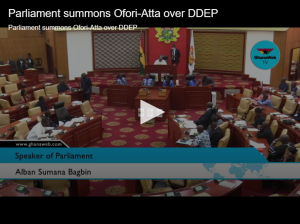 Background:
The Pensioner Bondholders Forum has asked the government to exempt them entirely from the debt exchange programme.
The bondholders' demand comes after the new terms the government has introduced after various consultations with stakeholders.
Wielding placards whiles picketing the Finance Ministry on February 6, 2023, the bondholders insisted that until a meeting is granted them and a resolution is given to their plea, they would picket the premises every day.
According to the group, attempts to have their investment exempted from the programme have proved futile reason for their decision to picket at the Finance Ministry until their demands are met.
The deadline for the government's Domestic Debt Exchange Programme has been extended to Tuesday, February 10, 2023.
Source: ghanaweb.com