His introduction was followed by various reactions from both sides of the house.

Former President, John Dramani Mahama received massive cheers from both sides of the house following his introduction by Speaker of Parliament, Alban Bagbin albeit, each with its own message.

While members of the minority side cheered Mr. Mahama on, their counterparts on the majority side in parliament chanted, "pensioner", "pensioner".

All this while, the President, Nana Addo Dankwa Akufo-Addo was smiling while rubbing his arms together.

The former statesman, prior to this, had arrived in a grey suit and was welcomed by many including former President, John Agyekum Kufour.

The former president is one of many other statesmen and personalities who are in parliament to listen to the president's address on the State of the Nation.

Some of these persons include former presidents, Vice President, Dr. Mahamudu Bawumia, members of the diplomatic corps, justices of the Supreme Court, traditional leaders among others.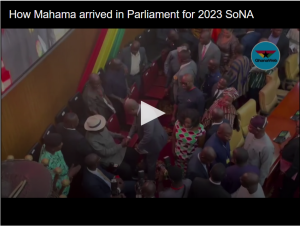 SoNA:

The State of the Nation Address is in accordance with Article 67 of the 1992 Constitution of Ghana, which states that the President shall deliver a message on the SONA to Parliament at the start of each session and before the dissolution of Parliament.

SONA is a constitutional obligation and yearly tradition where the Commander-In-Chief of the Ghana Armed Forces reports on the status of the country unveils the government's agenda for the coming year and proposes to Parliament certain legislative measures.

Article 67 of the 1992 Constitution of Ghana obliges Members of Parliament (MPs), the Speaker of Parliament, and the Judiciary to receive the President's SONA.
Source: ghanaweb.com