Divine Nkrumah, the National Youth Coordinator of the Progressive People's Party (PPP), who staged a one-man demonstration against former President John Dramani Mahama to protest the economic hardship in the country in 2014, has begged the former president for forgiveness.
Speaking in a Top FM interview, which was broadcasted on Facebook and monitored by GhanaWeb, Nkrumah said that even though he does not regret his demonstration against Mahama, he feels the need to apologise because the hardship being seen now in Ghana is worse.
He added that he owes the former president an apology because he has not organised a similar demonstration even though things are worse now.
"The demonstration I had in 20214 was a statement I wanted to make that Mahama was incompetent, he wasn't managing the economy well.
"I will not change that position if it was that time but today, I apologise to him based on what I'm seeing. When you compare what happened during the time of Mahama and the hardships we are seeing today coupled with the fact that I have not held a one-man demonstration, I have to apologise to Mahama," he said in Twi.
"If I compared what happened then and what is happening now, I should have gone to bed at the time," he added.
Watch the interview below: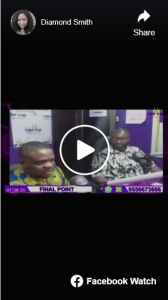 Source: ghanaweb.com