The Member of Parliament (MP) for Ningo Prampram, Sam Nartey George, has taken a swipe at members of the New Patriotic Party (NPP) who protest the use of 'useless' in relation to the handling of Ghana's economy by Vice President Mahamudu Bawumia and Finance Minister Ken Ofori-Atta.

In a post shared on Facebook on February 6, 2023, the MP said NPP members get angry when the word 'useless' is used against any of their leaders but they happily used it against former President John Dramani Mahama.

He reiterated that the word 'useless' can be used to describe the poor handling of the Ghanaian economy by any of the leaders of the government.

"This morning on the morning show on TV3 Ghana, the government rep, Davis Opoku accused me of insulting the Vice President and Finance Minister because I DESCRIBED their handling of the economy as useless. Is their handling of our economy useful?

"When Bawumia and his wife Samira called JM useless and incompetent, were those praises and worship? Have we ever had a time when our currency was junk status? Has there ever been a time where government is 'forcefully' appropriating the savings of pensioners due to its perverted proclivities that have destroyed our economy?

"Just to help the NPP communicators running riot, the word USELESS is an adjective. An adjective modifies or describes a noun or pronoun. A noun identifies people, places or things. Hence, the word USELESS would be an adjective modifying Bawumia or Ken Ofori-Atta in the following sentence. The management of Ghana's economy by Bawumia and Ken Ofori-Atta has been USELESS," parts of the MP's post read.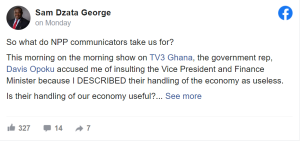 Source: ghanaweb.com