Chief Nixon Biney, a former Deputy National Organizer of the National Democratic Congress (NDC) has tasked President Nana Addo Dankwa Akufo-Addo to apologize to Ghanaians over the shooting of excerpts of a music video by American rapper Meek Mill at the Jubilee House.

Chief Biney is outraged by the situation which he reckons is untenable and must be condemned by all.

"President Nana Addo Dankwa Akufo-Addo, I am calling on you as a citizen and not a spectator to respectfully come out and apologise to the good people of Ghana for allowing a foreign artist to record a video for his personal gains at the seat of government referred to as a "security zone" by the state. This is unacceptable ???? and you must apologise to the good people of ? Ghana ASAP", he shared on social media on Tuesday, January 10, 2022.

Whereas the government is yet to comment on the issue, Meek Mill has taken responsibility and apologized to Ghanaians.

The rapper explained that the video was taken on the blind side of Jubilee House officials.

He took to Twitter with an apology, writing: "To the people of Ghana no video I drop is ever meant to disrespect the people of Ghana …. The fastest way to make a connection is thru music and I wanted to do that with displaying art … im in my 30's from America and didn't know much about the lifestyle here."

Meanwhile, Samuel Okudzeto Ablakwa, the member of Parliament for North Tongu has demanded the dismissal of officials whose actions or inactions directly resulted in the situation.

"All those responsible for this despicable desecration of the Jubilee House by Meek Mill must be fired immediately.

"How do those explicit lyrics from the president's lectern project Ghana positively?

"Is Ghana's seat of government no longer a high-security installation?" he wrote in a Facebook post sighted by GhanaWeb.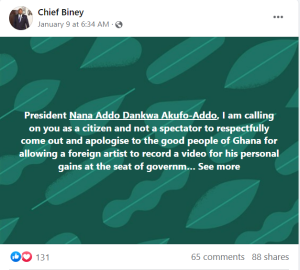 Source: ghanaweb.com