More damning evidence is emerging around the plot by some senior officers of the Ghana Police Service to oust the Inspector-General of Police, George Akuffo-Dampare, ahead of the 2024 general election.
GhanaWeb on Tuesday, July 11, 2023, broke the news about a secret recording implicating some senior police officers of plotting the removal of Dr Dampare from office with a politician in the ruling New Patriotic Party (NPP).
The initial publication was accompanied by a 50-minute audio recording detailing the agenda of the police officers during a meeting with one Alhaji, the NPP man.
However, the availability of more damning evidence in the form of video recordings provide more insight into the plot.
In one of the videos, a certain Superintendent of Police identified as Asare goes all out in advocating the agenda of the cabal during another meeting with a senior member of the NPP.
In his attempt to malign the current IGP with various allegations including why he is anti-NPP, Superintendent Asare retorts by saying "because he [Dr Dampare] is naturally born bad."
In the audio recording published by GhanaWeb, a senior police officer with the rank of Commissioner is heard lobbying for political support for their crusade for the removal of Dr Dampare.
According to the Commissioner of Police identified in the audio as Mensah, the leadership style of Dr Dampare threatens the possibility of the New Patriotic Party retaining power in 2024.
He goes on to make a case for himself as the right candidate for the IGP position stating that would serve the NPP's interest and that he would be satisfied with the removal of Dr Dampare as long as he is replaced with a pro-NPP officer.
According to a GhanaWeb source, the evidence including videos implicating the senior officers is voluminous with some bordering on national security issues and implications.
Listen to the voice recording published by GhanaWeb on July 11, 2023 below: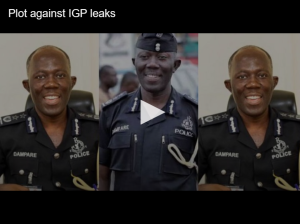 Source: ghanaweb.com