A member of the campaign team of Alan Kyerematen has alleged that Members of Parliament who followed Vice President Dr. Mahamudu Bawumia to the second Akwasidae were paid to do so.

Kwame Asafu Adjei who has downplayed the impact of the entourage of over 80 MPs who followed the vice president to Manhyia Palace on Sunday said the MPs and government officials as well as party gurus were paid an appearance fee.

"As for Akwasidae, everyone can attend. The worry is that the Vice President and his people, particularly the MPs, are making politics out of it. Even those who followed the Vice President were paid an appearance fee. The MPs got a big sum, some got GH¢10,000 others got GH¢20,000. We are not scared of that.

"If Bawumia feels he has the upper hand, why did he pay an appearance fee? And why did the regional chairman write a letter to invite people to follow him? When Alan was coming, there was no notification and no advertisement, but the crowd was massive," he said in an interview with Oyerepa TV

"Their purpose at Manhyia was to seek endorsement from Asantehene; they forgot Otumfuo would not speak at the Akwasidae; they waited for more than 4 hours and did not get it." Hon. Kwame Asafu Adjei told Akua Asieduaa, the host of the show.

Both Alan Kyerematen and Vice President Dr. Mahamudu Bawumia are lead contenders in the New Patriotic Party's upcoming flagbearer contest.

The Vice President on Sunday, March 19 2023, attended the Akwasidae festival with an entourage of MPs and party bigwigs, which incident has since been touted by many as an endorsement of his bid.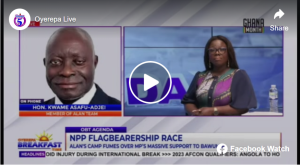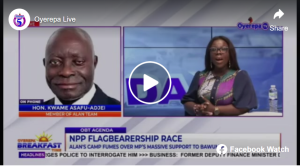 Source: ghanaweb.com