After what seemed like a slight misunderstanding about consultations prior to the appointment of Dr Cassiel Ato Forson as the new leader of the Minority Caucus of Parliament, the former Minority Chief Whip, Muntaka Mohammed Mubarak, welcomed the former during their first meeting.

Muntaka Mubarak, the Member of Parliament (MP) for the Asawase, told Ato Forson (MP for Ajumako Enyan Esiam), not to be in a hurry to take his new role as the minority leader.

He even rejected claims by Cassiel Ato Forson suggesting that he (Ato Forson) had a fruitful conversation with the former Minority Leader, Haruna Iddrisu.

"I can tell you that the meeting was not fruitful. He mentioned some measures that they had to take, but that was not done. I can tell you that he was irritated at the meeting," Muntaka said during a press conference on Thursday.

But on the floor of Parliament on Tuesday, February 7, 2022, when Ato Forson was expected to assume his role as minority leader, the two National Democratic Congress (NDC) stalwarts appear to have put aside their differences.

GhanaWeb's team in Parliament captured the moment where Ato Forson and Muntaka met on the floor of Parliament, before the former was announced by the Speaker of Parliament as the Minority Leader.

The two men could be seen will hugging and shaking each other's hands and Muntaka appears to be congratulating Ato Forson.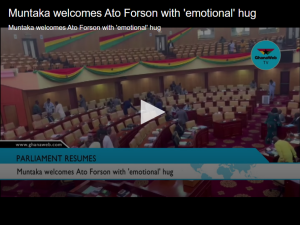 Source: ghanaweb.com