The Member of Parliament for North Tongu, Samuel Okudzeto Ablakwa is set for a lone walk in the park in the upcoming primaries of the National Democratic Congress (NDC).

At the close of nominations on Saturday, February 25, 2023, the third term MP was the only person to pick forms to contest for the party's slot for the 2024 elections for North Tongu.

"We are running unopposed in the North Tongu NDC Parliamentary Primaries.

"Another reason to serve my beloved constituents better, stronger, harder & more innovatively.

"As you very well know, I don't & will never take your support for granted. Glory be to God," Mr Ablakwa wrote on his Facebook wall after nominations closed on Saturday.

The NDC, ahead of the 2024 presidential and parliamentary elections, has slated its primaries for May 13, 2023.

Mr Okudzeto Ablakwa was first elected in 2012.

He has also served as deputy minister for information and communication.

He is regarded as one of the most active MPs in the current 8th Parliament of Ghana's Fourth Republic.

The absence of competition for Mr Ablakwa effectively means his fourth term bid is inching closer since North Tongu is classified a safe seat of the NDC being located in the party's stronghold.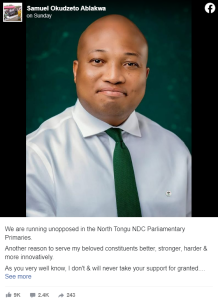 Source: ghanaweb.com