Founder and Leader of Ghana Union Movement (GUM) Rev Christian Kwabena Andrews popularly known as Osofo Kyiri Abosom, has lambasted the Board of Trustees of the National Cathedral project for reasons known to him as lack of priority.

According to the Founder and General Overseer of the Life Assembly Worship Centre, no true man of God will support the national cathedral project because president Akufo-Addo is building the cathedral with state funds which is a completely misplaced priority.

"The truth is, we the pastors living in the country and calling for the construction of the national cathedral. Those who are board members and are calling for the cathedral are not true men of God. If they are true men of God, they will not support this thing. Tell the public for me. President Akufo-Addo is he a pastor? has he been called by God, for him to come and build a church for God? If you want to build a church go and buy your own land," he angrily said.

He furthered that, the president is spending limited resources on the cathedral, which is unacceptable even in the eyes of God, in whose name the cathedral is being erected.

"If the President can hear the voice of God, he would know that people are hungry and are not about the cathedral, Does Nana Addo hear the voice of the Lord? He doesn't, if he does, he wouldn't be carrying his chair around," he added.

Meanwhile, Samuel Okudzeto Ablakwa, a Member of Parliament for North Tongu who has been a staunch advocate against the construction of the National Cathedral, on grounds that the timing, location and process are wrong has made some allegations Reverend Kusi Boateng.

In his latest set of allegations, Okudzeto Ablakwa sought to establish that Reverend Kusi Boateng was actively operating with two different identities.

"As I revealed on Metro TV's Good Morning Ghana programme a while ago; when Paul Adom Otchere claimed on his show last night that Rev. Victor Kusi Boateng AKA Kwabena Adu Gyamfi was advised to use his mother's name following the demise of his father; what Paul didn't want Ghanaians to discover is the fact that in addition to the double dates of birth and double TINs; Rev. Kusi Boateng also mystifyingly claims to have two biological mothers.

"On the 13th of August, 2013 when he filled his Taxpayer Registration Form at the GRA under the name Victor Kusi Boateng with a date of birth of September 7, 1971; he declared that his mother's maiden last name is Ataah, and her first name is Agnes.

"He was subsequently given a Taxpayer Identification Number for his Victor Kusi Boateng name as P0002502682.

"Curiously, on the 24th of March, 2016 he returned to the GRA, this time with the name Kwabena Adu Gyamfi and date of birth of December 30, 1969. He strangely declared a different biological mother with a maiden last name of Gyamfua and a first name of Yaa.

"This is how he secured another TIN — P000627241X.

"Interestingly, he declared on the forms that he is not a registered taxpayer even though he was and already had a TIN.

"Therefore, from unimpeachable official records, Rev. Victor Kusi Boateng miraculously has two biological mothers — Yaa Gyamfua and Agnes Ataah. (See copies attached)", he posted on social media.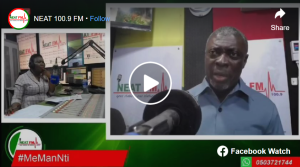 Source: ghanaweb.com