Majority Caucus in Parliament has rescinded its decision to boycott the 2023 budget reading if it is going to be presented by Finance Minister Ken Ofori Atta.
98 New Patriotic Party (NPP) Members of Parliament had demanded a different person to read the budget statement and the immediate dismissal of Ken Ofori Atta or boycott any government business.
The Member of Parliament for Asante Akyem North, Andy Appiah-Kubi, who doubles as Spokesperson for the group speaking in an interview on Peace FM's morning show 'Kokrokoo' said, "we are not only going to boycott the budget presentation, we are also not going to be part of any business done through him and that is our position now".
"Yes, we are not part of the vote of censure . . . we want him gone, but by using a better approach and that is what we're doing . . . indeed we agreed to the President's request to wait but analyzing various public statements, especially from Ofori-Atta, it shows disrespect. It gives the impression that the President has no plan to dismiss him even after the budget presentation and so we've changed our mind; his dismissal should be now," he insisted.
The Asante Akyem North MP has further assured that they won't change their stand even if the President calls for another meeting.
"I can assure you that our current position won't be changed," he added.
However, after a Council of Elders intervention, a statement dated November 22, 2022, jointly signed by the Majority Chief Whip, Annoh-Dompreh, and the General Secretary of the NPP, Justin Kodua Frimpong said "it has been agreed by all to refocus and recline to the earlier position requested by President Akufo-Addo.
Per the statement, the following agreement has been reached:
1. The demand be stood down until the conclusion of the round of negotiations with the International Monetary Fund (IMF) which would feed into the 2023 Budget;
2. The presentation of the 2023 Budget Statement and Economic Policy on the 24th November 2022 by the Finance Minister on behalf of the President; and
3. The subsequent presentation and passage of the Appropriation Bill
The meeting agreed that the President would act upon the initial request of the NPP Parliamentary Caucus after the conclusion of these matters.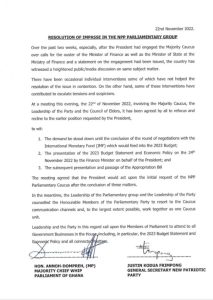 Source: peacefmonline.com