The immediate-past Chief Justice of the Republic of Ghana, Sophia Akuffo, has asked the Minister of Finance, Ken Ofori-Atta, to go back to the drawing board and come up with a 'yes-sable' preposition in the debt exchange programme he is currently asking bondholders to sign onto.

"The Minister of Finance had better go back to the drawing board and come back with a better proposal, otherwise nobody is going to… I am encouraging people not to agree to sign up for anything, and if need be, we can all go to court," she said.

Sophia Akuffo said this when she joined pensioners who are picketing at the finance minister's office against his decision to include the investment of pensioners in the government's Domestic Debt Exchange Programme.

The pensioners have vehemently rejected the move, stating that they do not want their monies included in the programme because they survive on the returns on such investments.

The former Chief Justice, who clarified that she was not affected by DDEP, said she was there in solidarity with her fellow retirees.

She stressed that these retirees have served the nation well and do not deserve the treatment they are being given.

"These are all people who have worked. They have worked very hard. They could have left the country when others were going, but they stayed and worked for the nation. And we've had our ups and downs and everything… We have been through times when all your savings have become nonsense due to some government policy… quite a number of people here today when they retired, they put everything in government bonds," she added.

Ghana is seeking an IMF bailout of $3 billion, but the Fund wants to be sure that the government's debts are sustainable, hence the voluntary Domestic Debt Exchange Programme to deal with its domestic debts.

It has also come up with some measures, including the country joining the Paris Club to deal with its international debts – to have the foreign debts delayed or forgiven.

With the DDEP, the government is seeking to restructure approximately GH¢137.3 billion of the domestic debts it accrued through bonds it issued, including the E.S.L.A. Plc and Daakye Trust Plc, and per the requirement of the IMF, 80 percent of the country's total debts must be subject to this debt exchange programme.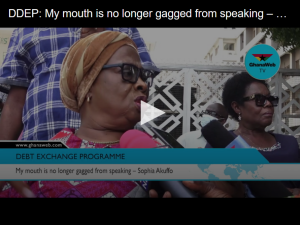 Source: ghanaweb.com