Some members of trade unions including Okada drivers, spare parts dealers and drivers' union have donated an undisclosed amount of money to support the campaign of former President John Dramani Mahama.

The donation was done when the group went to present a petition to the former president, on Tuesday, February 21, 2023, urging him to contest in the 2024 presidential election.

The group indicated that the current hardships in Ghana have made them appreciate the leadership of Mahama.

They indicated that they are now suffering particularly because of the increase in the prices of petroleum products which is making it difficult for them to ply their trade and has led to a lot of them losing their jobs.

Some of the Okada drivers who spoke to JoyNews said that John Mahama is the right person to lead the country out of the current economic challenges.

They added that they want the former president to lead Ghana again because he promised to legalise Okada when he becomes president.

"I'm taking part in this because of the promise of former President John Dramani Mahama to legalise Okada in 2020 but unfortunately, he did not win the election. We believe that in 2024 John Mahama will win the elections. We are pleading with him to come out and pick the forms (NDC flagebearship nomination forms)," one Okada driver said.

"We are on our knees begging him to go for the forms. That is why we brought the petition to him and some little amount of money to support his campaign," another driver said.

Meanwhile, the former president has picked the nomination forms to contest the flagbearership race of the National Democratic Congress (NDC).

This was barely 24 hours after he declared his intention to run for president in the 2024 general election on the ticket of the opposition National Democratic Congress (NDC).

John Mahama made the formal announcement when he met with the minority caucus at his Cantonment office on Tuesday.

All NDC MPs in Parliament have unanimously endorsed John Dramani Mahama's candidature as flagbearer.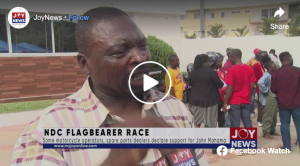 Source: ghanaweb.com