The Member of Parliament for Yapei-Kusawgu has urged the newly assigned resident advisor for financial sector supervision at the Bank of Ghana to keep a close eye on the activities of the Central Bank.

This comes after the International Monetary Fund assigned a Resident Advisor to provide technical assistance and help build the capacity of the banking supervision function.

John Jinapor, who lauded the move, posited that there is a mistrust in the Governor of the Bank, Dr. Ernest Addison, which therefore requires proper supervision of the bank's activities.

Speaking on the floor of parliament on February 16, 2023, the former deputy energy minister expressed concern over the Central Bank's decision to advance funds for government expenditures in 2022.

"I am not surprised that the IMF has appointed Leonard Chumo as the Financial Sector Advisor for the Bank of Ghana. Let me thank you and welcome you to Ghana but let me plead with you to please open your eyes at the Bank of Ghana," the lawmaker stressed.

"…I cannot trust that Governor [Dr. Ernest Addison] one way or one bit and I beg you [Leonard Chumo] to open your eyes in scrutinizing the documents and ensure that the right thing is done," John Jinapor added.

Meanwhile, the Bank of Ghana has come under intense criticism for its action which resulted in the printing of new cedi notes to the tune of GH¢44.5 billion to support government expenditure in 2022.

The BoG in its response contended that the decision was a crisis management tool since the Fiscal Responsibility Act, 2018 which was suspended by the Parliament of Ghana had not been reinstated.

It further added that the economy would have collapsed and faced a halt as access to the International Capital Market was closed while the domestic market was also struggling.

But analysts believe that the move was entirely wrong and has since caused inflationary pressures in the Ghanaian economy.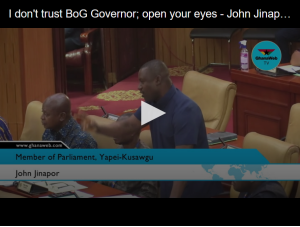 Source: ghanaweb.com