Dr. Kwabena Duffuor, who is vying for the flagbearer position in the NDC, has kickstarted his Greater Accra Tour.

The tour was welcomed with open arms by the people of Ningo Prampram and Kpone Katamanso, and Dr. Duffuor expressed his gratitude for their unwavering support.

This tour is crucial to Dr. Duffuor because it provides him with the opportunity to connect with the grassroots, understand their concerns, and present his policies and vision.

During the tour, Dr. Duffuor presented policies to introduce a salary structure for the NDC National Executives, a pension fund for retired NDC executives, revive the Heroes Fund and introduce a state-of-the-art collation system in time for the 2024 Elections.

According to Dr. Duffuor, the grassroots are the backbone of the NDC, and it's time to recognize and support their sacrifices.

Dr. Duffuor is proud to announce that he will revive the Heroes Fund, which will provide much-needed assistance to Ghanaians who have put themselves in harm's way to advance the ideals of the country.

With the restoration of the Heroes Fund, sustainable measures will be put in place to ensure that the fund does not dry up again.

"We are committed to supporting our heroes who have sacrificed so much for our country. We believe that reviving the Heroes Fund is crucial in achieving our goals, and we will ensure that the fund is managed sustainably to support Ghanaians who have put their lives on the line for Ghana," said Dr. Duffuor.

The revival of the Heroes Fund is expected to serve as a support system for the NDC grassroots, instilling confidence and courage in the rank and file of the party and strengthening the base of the party.

If given the opportunity to lead Ghana, Dr. Duffuor has promised to transform the country within two years.

The first year will be a resurrection year, while the second year will see complete recovery in 2025.

He also pledged to minimize government expenditure and intensify domestic resource mobilization.

Dr. Duffuor's Greater Accra Tour continues, and he is excited about the prospects of NDC's Victory for 2024 and Beyond.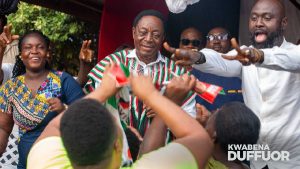 Source: ghanaweb.com