The Member of Parliament (MP) for Ningo-Prampram, Sam Nartey George, has dressed down the Nana Addo Dankwa Akufo-Addo government on live TV in Kenya.
Speaking in an interview on Nairobi-based Spice FM, Sam George said that the Akufo-Addo government especially the Minister of Finance, Ken Ofori-Atta, was so clueless that they rejoiced over being able to borrow money from the international financial market.
He said that now the government has destroyed Ghana's Economy to a point that it would take at least 10 years of prudent management before the economy can be on its feet again.
"Ghana would need 10 straight years of 100 per cent effective management; 0 per cent budget deficit for 10 straight years to fix the mess that has been created by this government.
"In 2019, 2020 when we were sounding the warning bells, our finance minister would come to parliament and literally insult everybody and say to us that we are liars because he went on the Euro market to borrow $3 billion and he had offers of $30 billion.
"People forget that there was a meltdown in some parts of the world and they were offering 0 per cent interest… the maximum you get was 3 per cent. And Ghana was going in and offering 11 per cent so investors were chasing the money… and our finance minister would finish and come home and organise a Kenkey party and thank God that we have oversubscribed.
"Now it was dollars that came in and they misused those dollars. After they have done that now and the tourist dollars need to go back home," he said.
The MP added that it is this challenge of the government paying back all the monies it borrowed that has landed the country in the current economic mess.
Watch Sam George's remarks in the video below: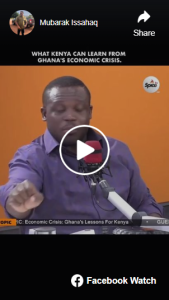 Source: ghanaweb.com