Speaking on the floor of Parliament on Wednesday, June 22, 2022, Ken Ofori-Atta said that data collected as of May 2022 indicated that Ghana raised over GHc 18 billion to fight the COVID-19 pandemic.

However, an audit of Ghana's COVID-19 expenditure by the Auditor General's Department shows that Ghana raised nearly GHc 22 billion as of June 2022 to fight COVID-19.

So, perhaps Ken Ofori-Atta was correct and Ghana raised approximately GH4 billion in a single month (June 2022).

According to the AG's report, the government raised GHc21.84 billion through the Contingency Fund, the World Bank Group, the International Monetary Fund (IMF), the African Development Bank (AfDB), the European Union (EU), and the sale of BOG-COVID-19 Bonds for the 2020, 2021, and 2022 fiscal years.

"The records of COVID-19 funds at the Ministry of Finance, Controller and Accountant-General, and Ministry of Health indicated that the Ministry of Finance mobilised a total amount of GHc19,112,318,205.12 in 2020 to mitigate the impact of the COVID-19 pandemic.

"The records showed that an amount of GHc1,978,551,137.46 was mobilised in 2021 and GHc753,319,842.66 (up to June 2022) to finance the Coronavirus Alleviation Programme and the implementation of the Ghana COVID-19 Emergency Preparedness and Response Plan. In all, a total of GHc21,844,189,185.24 was mobilised to mitigate the impact of the COVID-19 pandemic in Ghana," parts of the report read.
List of funds received and their sources: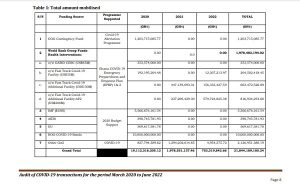 Ofori-Atta also said that the government had spent about GHc12.04 billion of the GHc18.19 billion raised to contain the spread and mitigate the effects of the COVID-19 pandemic on lives and properties.

But the audit report shows that out of the total amount raised to fight COVID-19, only GHc11.75 billion was used for activities geared toward fighting the spread of the virus and its impact in Ghana.

Read the full report of the AG below:
Report_on_the_audit_of_the_Government_of_Ghana_Covid-19_expenditure_for_the_period_March_2020_to_June_2022

Source: ghanaweb.com