A senior lecturer at the department of Teacher Education of the University of Ghana, Dr Paul Kwame Butakor has declared his intention to contest the parliamentary primaries on the ticket of the National Democratic Congress (NDC) in the Nsawam Adoagyiri Constituency in the Eastern Region.
According to Dr Butakor, he has received numerous calls from elders and the youth of the constituency to redeem them from the hardships they are facing currently in terms of development in a constituency under the New Patriotic Party (NPP) for the past 20 years.
Dr Butakor said he is an indigene and grassroots person who is well-known across the constituency adding that his experience coupled with humility, connectedness and resourcefulness will be able to attract floating voters and votes of the majority of disgruntled NPP supporters due to the abysmal performance of the NPP over the years.
According to him, he will leverage his experience at home and abroad to influence policies that will impact the economic fortunes of the constituency, especially in the area of employment, education, health and infrastructure.
He appealed to delegates of the NDC to trust him with their votes since he is the right person to wrestle power from the NPP and lead to total dominance of the NDC in the constituency.
Dr Butakor currently teaches Quantitative Research Methods, Educational Measurement and Assessment, and Statistics at both undergraduate and graduate levels.
He holds PhD (Measurement, Evaluation, and Statistics) from the University of Alberta, Canada; an MSc in Applied Statistics from Kwame Nkrumah University of Science and Technology; as well as MSc in Educational Sciences, from the University of Groningen, The Netherlands.
The Nsawam-Adoagyiri constituency was created out of the Aburi-Nsawam constituency in the Eastern Region of Ghana. The seat is currently occupied by the NPP Frank Annor Dompreh Majority Chief Whip of the current parliament, and he is in his third. The NDC is poised to take over the seat from the NPP come December 2024.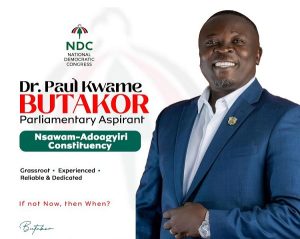 Source: ghanaweb.com