Former President John Dramani Mahama has extended his condolence to the family of the late Black Stars midfielder, Christian Atsu, following the news of his death.

In a Facebook post, John Dramani Mahama gave thanks to God for giving Christian Atsu to Ghana even if it was for just 31 years.

"We all held our breaths, and we prayed as we heard the miracles of people pulled out of the rubble. We prayed that ours would be one of those miracles, too. Alas, it was not to be. But in all, we give thanks to the almighty God for giving Atsu to us even for the short 31 years of his life.

"At this time, Lordina and I extend our deepest condolences to his family and the football fraternity in Ghana," he shared on Facebook.

Christian Atsu's body was recovered on Saturday 18, 2023, after he was trapped under rubble following a 7.8 magnitude earthquake that hit south-central Turkey and Syria on February 6.

Born in Ada Foah in the Greater Accra Region of Ghana on January 10, 1992, Christian Atsu revealed that money was hard to come by while growing up. He once said that losing his father in tragic circumstances made life even more difficult for his family.

Atsu, in 2013, made it big when Chelsea came calling after he was identified as a long-term prospect. Chelsea paid £3.5 million to FC Porto and signed Christian Atsu, who was subsequently loaned to Vitesse Arnhem, Everton, AFC Bournemouth, and Málaga.

Atsu after signing for Chelsea started enjoying the football money and at Newcastle, he was reportedly earning £32,000 weekly and which made him one of the richest Ghanaian footballers from 2016.

In September 2022, Christian Atsu joined Hatayspor as a free agent and reported taking close to $500,000 as a signing-on bonus.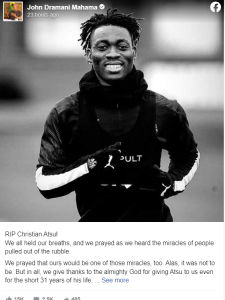 Source: ghanaweb.com