National Democratic Congress Member for Ningo Prampram, Samuel Nartey George, has stated that the many divinations revealed about the year 2023 by some pastors and prophets fail to meet the threshold of an actual prophecy.

As has become a norm in Ghana, several men of God on New Year's Eve and New Year's Day issued several prophecies forecasting events of 2023.

The prophecies including some impending deaths covered predictions of events on Ghana's socioeconomic and geopolitical space and in extension other parts of the world.

But in a Facebook post addressed to members of his party, Sam George despite emphasising the importance he places on prophecies said the many that were issued pertaining to events of 2023 are issues that are already known to a discerning mind.

"Dear NDC, Welcome to 2023. I would go straight to the point. This year is critical to our survival as a Party and #Project2024. As a student of scripture, I place premium on prophecy as GOD's express guidance to humanity. Let's be clear though, prophecy brings fresh revelation, illuminates unknown paths and does not create confusion.


"None of the several prophesies from the last 2 days does any of the above. All the so called prophesies are well established and known facts to discerning political minds. Nothing revealing or illuminating on the unknown," he wrote.


Some prophets have tipped former President John Dramani Mahama who is deemed the presumed flagbearer of the NDC as the winner of the 2024 elections.

But according to Sam George, John Mahama's victory is one that is more hinged on the efforts of the party and not such prophecies.

"Our focus must be on reviving our Branches and empowering them to mobilise and protect the ballot. No prophecy would win us 2024, only hardwork, mobilisation, a crisp political message, concise communication, protecting the ballots cast at the polling station and effective and timeous result collation would win us 2024.

"We shall pray and seek the face of GOD for our presumptive Flagbearer, John Dramani Mahama but that would only be effective if we do the things listed above. Ghanaians would not forgive us if we fail them again," the MP said.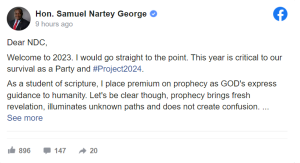 Source: ghanaweb.com