Samuel Okudzeto Ablakwa, the Member of Parliament for North Tongu, who has made the expenditure on the National Cathedral his pet project, has released a new set of revelations on the project.

In his latest exposé, Okudzeto Ablakwa alleges that payment of GH¢2.6million was made to an institution which he later discovered to be a creche located in Dawhenya, a suburb of Accra.

JNS Talent Centre Limited is the company mentioned in Ablakwa's latest epistle about the National Cathedral with allegations that the firm was paid the said amount for unspecified work.

"We have discovered a shocking diversion of an impressive GH¢2.6million of tax funds to a company known as JNS Talent Centre Limited.

"According to incorporation details in my possession, JNS Talent Centre Limited's given registration number is: CS695622015. Its directors are: Johannes Eshun, Sheila Eshun and Kwabena Adu Gyamfi. The registered principal activity of JNS Talent Centre Limited is listed as "Talent and Skills Development Training."

"JNS Talent Centre Limited has a stated capital of a measly GHS500.00. JNS has absolutely no track record in construction neither does it have capacity for architectural designs or related services.

"Further investigations reveal that JNS Talent Centre Limited operates a crèche located in Dawhwenya. The crèche's motto is "train up a child in their talent and they are made for life."It remains a mystery what kind of services JNS Talent Centre Limited provided to the National Cathedral Secretariat to pocket a cool GHS2.6million," part of his social media post reads.

Ablakwa and fellow proponents of accountability and transparency about the National Cathedral have been described as 'naysayers' by the Metropolitan Archbishop of the Anglican Church for the province of West Africa, Rev. Dr Cyril Kobina Ben-Smith.

Reverend Kobina Smith said that the actions of these 'naysayers' must be ignored by President Akufo-Addo.

"Your Excellency, your building of the National Cathedral is a long testimony of your devotion to God and no matter the naysayers it will happen," he assured in a sermon during the Second Presidential New Year Service at the Jubilee House held on January 10, 2023.

Drawing analogies from the Bible, Rev Dr Ben-Smith compared President Akufo-Addo to the biblical King David who built a house for God despite opposition.

"You and other world leaders, King David faced similar challenges that we are still experiencing. The murmuring of the people and lamentation of the crowd, the abuse and lack of understanding of the issues that are clear to all…Yet David stood resolute, in his conviction in the midst of opposition," he insisted.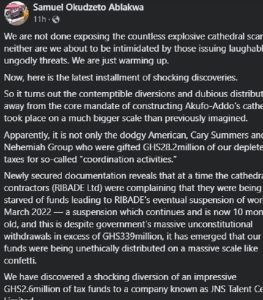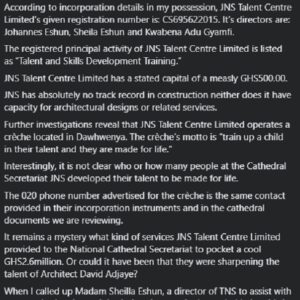 Source: ghanaweb.com